Below, you will find: Ways to Give, Sponsorship Circle Giving, Donor Levels & Benefits, Corporate Partnerships, & Events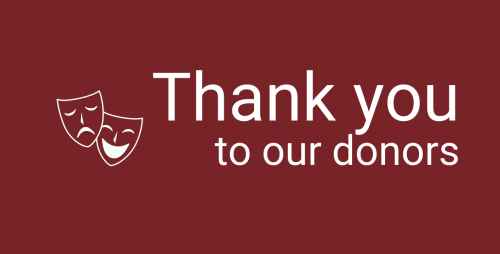 Did you know that ticket sales cover only 50% of our expenses at Cinnabar Theater?
The impact of individual donors cannot be overstated. Your tax-deductible gift to Cinnabar Theater sustains the work of our artists, designers, directors, and educators while contributing to our ability to produce the world-class intimate theater we are known for.
Every dollar makes a difference!
Gifts to Cinnabar Theater can be made by cash, check, or credit card.  Monthly giving plans can be arranged for gifts of any size.
You can give anytime!
Checks – Please make checks payable to Cinnabar Theater and mail to: Cinnabar Theater c/o Development Dept, 3333 Petaluma Blvd. N., Petaluma, CA 94952
Stocks & Mutual Funds – Cinnabar gratefully accepts gifts made via stock transfer. Giving appreciated stock returns several benefits to donors. The gift amount is the value of the stock on the date it is given, not the purchase amount. Additionally, no tax is due on capital gains.
Employer Matching Gifts – Double Your Impact!! Many employers are committed to furthering philanthropic reach by offering matching gift programs for employees and retirees. Please contact your companies HR Department to submit for matching funds or to learn more.
Monthly Giving – your reoccurring tax-deductible gift to Cinnabar Theater will help us create a reliable source of income all year long. By choosing an amount that works for you each month, you gain the satisfaction of knowing that you are helping to sustain great artistic work in our community, and you will have our endless gratitude. Click on the DONATE button above and choose "monthly gift".
Honorary Gifts – Honor or memorialize a family member or friend with a passion for theater by making a gift in their name to Cinnabar Theater. Gifts and recipients receive special recognition in our production brochures and other appropriate placements.
Legacy Gifts – Planned giving supports great theater for our community by making a meaningful gift that will have a lasting impact. To learn more about our Legacy Circle, contact Diane 707-981 7646, or diane@cinnabartheater.org
In-Kind Donations – As a nonprofit organization, Cinnabar Theater often must rely on its partnership with many businesses to help us achieve our goal of presenting high-quality theater at an affordable price. We are especially seeking items that can be used towards our auction annually in The Broadway Bash fundraiser.
Sponsorship Circle Giving
The Sponsor Circle brings together our most loyal patrons who share our passion for extraordinary theater and help champion the talented artists and designers working in the theater.
As a sponsor circle member, you play a major role in the theater's artistic successes and financial wellbeing, and you join a community of people who share your enthusiasm for theater.
With your investment, you have the greatest impact on the production of the season's shows, the artistic risk-taking that we do as we feature new and innovative works and artists, as well as the enrichment of our community with art.
In appreciation of your commitment, you will have the opportunity to take an inside look at the production process from the first day of rehearsal to opening night. Meet the actors and creative team, read an advance copy of the script, attend rehearsals and intimate dinners with the artists and celebrate on opening night or the closing night after party.
Levels of Sponsorship start at $1500 and go up. Please contact Diane Dragone for more information on the various levels and benefits attached to them. diane@cinnabartheater.org; 707-981 7646
At Cinnabar Theater, we offer many opportunities for our business partners to get involved. We feature several types of advertising and promotional opportunities. Reach your target demographics while supporting the Theater. We offer a wide range of customized hospitality and recognition opportunities to help small businesses and large corporations express their philanthropic values, network with clients, acknowledge employee contributions and reach their marketing goals.
We are open and ready to work with you!
Contact Diane Dragone 707-981-7646; diane@cinnabartheater.org