Dates: October 14 - 30, 2022
October 14th, 7:30pm
October 15th, 7:30pm
October 16th, 2:00pm
October 21st, 7:30pm
October 22nd, 7:30pm
October 23rd, 2:00pm
October 28th, 7:30pm
October 29th, 7:30pm
October 30th, 2:00pm
When successful romance novelist Paul Sheldon, is rescued from a car crash by his "number one fan," Annie Wilkes, he wakes up captive in her secluded home. While Paul is convalescing, Annie reads his latest book and becomes enraged when she discovers the author has killed off her favorite character, Misery Chastain. Annie forces Paul to write a new Misery novel, and he quickly realizes Annie has no intention of letting him go anywhere.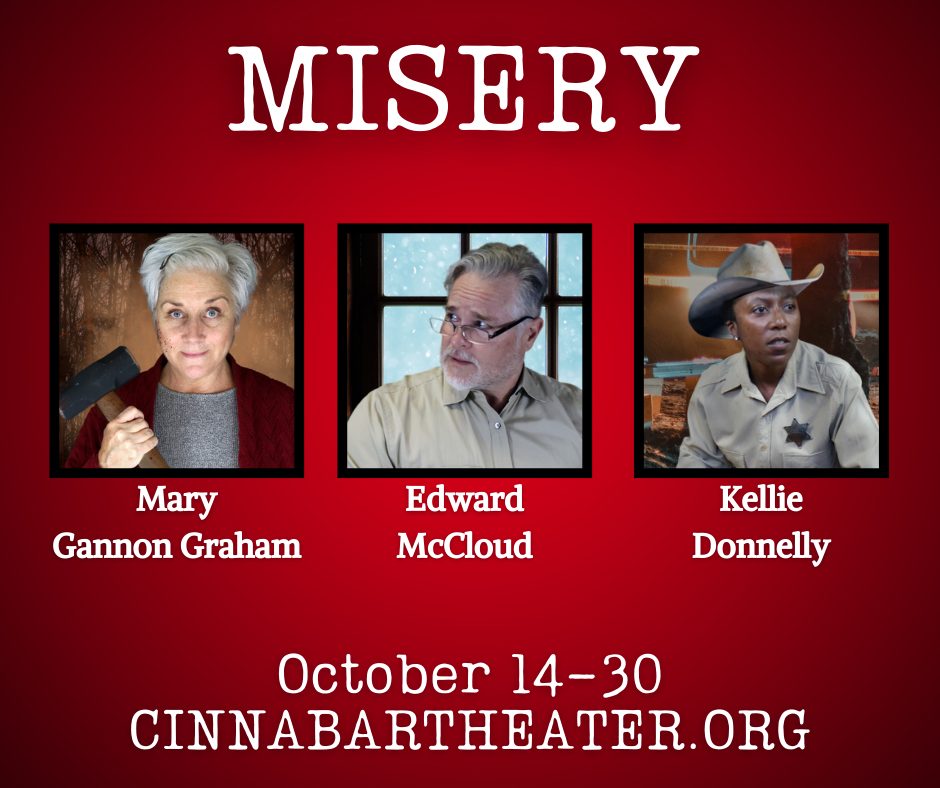 SOLD OUT
Thank you to everyone who came out to support our run of "Misery".
We hope to see you back at the theater again soon!
Misery
Based on Stephen King's Hit Thriller. By William Goldman
Director: Tim Kniffin
Cast
Mary Gannon Graham as Annie Wilkes
Edward McCloud as Paul Sheldon
Kellie Donnelly as Buster
This show is recommended for ages 13+
"(Misery) piles on the twists and thrills, complete with ominous thunder and lighting during particularly tense moments.
New York Post
"An old-fashioned chiller."
NJ.com
William Goldman (playwright) William Goldman (August 12, 1931 - November 16, 2018) was an American novelist, screenwriter, and playwright.
He grew up in Highland Park, Illinois and obtained a BA degree at Oberlin College in 1952 and an MA degree at Columbia University in 1956. He had published five novels and had three plays produced on Broadway before going to Hollywood to write screenplays, including several based on his novels. In the 1980s he wrote a series of memoirs looking at his professional life on Broadway and in Hollywood (in one of these he remarked that in Hollywood "Nobody knows anything"), and wrote more novels. Adapting his novel "The Princess Bride" to the screen marked his re-entry into screenwriting. He was often called in as an unaccredited script doctor on troubled projects.
Simon Morgenstern was a pseudonym and a narrative device invented by him to add another layer to "The Princess Bride." Goldman claims S. Morgenstern is the original Florinese author of "The Princess Bride" and credits himself merely as an abridger who is bringing the classic to an American audience. Goldman also wrote "The Silent Gondoliers" under Morgenstern's name.
Goldman won two Academy Awards: an Academy Award for Writing Original Screenplay for Butch Cassidy and the Sundance Kid and an Academy Award for writing the adapted screenplay for All the President's Men.
Thanks to our 2022/2023 Sponsors!