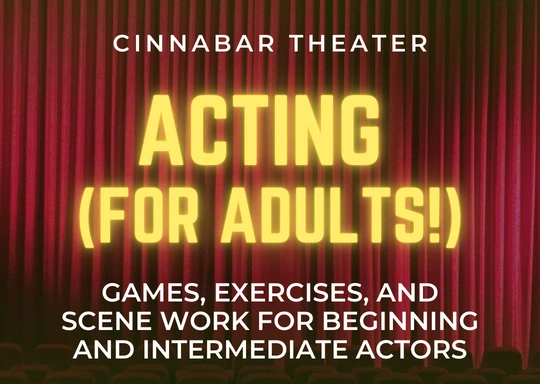 Wednesdays, Oct 18, 2023 - Dec 6, 2023
2200 Petaluma Blvd N, Petaluma, CA 94952, #700
Acting for Adults: It's what it says on the tin.
In this class, open to all experience levels, we'll work on a combination of exercises, games, focused text study, and scene rehearsal.  We will discuss and try a number of methods for delivering lively, believable, and moving performances -- without getting too pretentious about any of it.  Above all, we're going to create a safe and encouraging environment where we'll all be comfortable taking risks, trying new techniques, and workshopping our skills.  Let's play!
This class is taught by Cinnabar's Education Associate, Trevor Hoffmann.  Trevor is theater educator with over 20 years' professional teaching and coaching experience.  His work on Sonoma County and North Bay stages has included roles in over 50 plays and musicals, and he has directed professional productions throughout Sonoma County.  He is most known outside the Bay Area for his Voice Acting work in the Telltale Games Series "The Walking Dead".